My interview with Singer/Songwriter & Producer Antoine Dunn who first arrived on the music scene with his debut album Truth of the Matter which spawned the Billboard top 20 hits,
"Can't Forget"
and
"M
iss My Love"
is back to prep his upcoming Acoustic Soul Tour and sophomore album which features the new single
"
By Design"
.
Terrance: Tell me a little about what it was like growing up in Cleveland and how it impacted your music?
Antoine Dunn: I think that growing up in Cleveland was very good for me. I grew up in an east side suburb called Cleveland Heights. The heights is a place full of art, music, and cultural diversity; which made it prime for pursuing anything in the arts or creative space. I owe a great deal of gratitude to my hometown community for investing in me when it mattered most... My school age years. My teachers made sure that I had a broad view on music and what was possible for my life. I truly believe that this perspective is one that has kept my mind open and ultimately shaped what has become the beginning of a great career in music.
Terrance: Your latest single "By Design" has been catching a buzz, what was the inspiration behind that song?
Antoine Dunn: The song has been picking up steam! So glad to be getting out nationally on Sirius XM's Heart & Soul, and on other traditional radio platforms in Cleveland, Houston, New York and International markets. "By Design" was inspired by a thought. In the past I've talked about writing much of my material from true stories or situation which I have lived through, but this one was a bit different. I found myself thinking one day, and asked the question… "If there were a Perfect Love, what would it sound like in a song?" - From that question the composition, melody, and lyrics to "By Design" were the answer.
Terrance: In contrast to your debut album
Truth of the Matter
, sonically where is your mindset with your forthcoming sophomore project and can you share any details?
Antoine Dunn: This project will take on it's own sonic characteristics by focusing on the vocal performance and primary accompanying instrumentation. "By Design" gives a great look into this execution by really showing off the acoustic guitar while magnifying the natural characteristics in the voice. These songs are wonderful to me, and I can't wait to share them with the world. It will be artistically pure, musical, enjoyable, memorable, and non-fatiguing - the type of project you listen to for years and years.
Terrance: For those who have been following your breakout hit "Miss My Love" what was going through your mind during the creation of that song?
Antoine Dunn: Heavily on my mind was a relationship with a particular love interest who was very important to me. We had many challenges surrounding the relationship which caused our need to cut things off while I focused on my career. It wasn't an easy decision to make, but ultimately if I had not moved on at that time I wouldn't have had that song as a hit record a few years back. I did what was not only hard, but necessary to move forward in my life and career.
Terrance: Which do you ultimately prefer and why: Performing Live vs. Recording Studio?
Antoine Dunn: In my eyes - When done right, these two arenas are parallel with no separation. I essentially believe that recording is about capturing the moment; the point in time when you deliver that live performance filled with your reality, your way, and someone just happens to be recording it. So I guess the short answer would be Performing Live.
Terrance: What are your thoughts on R&B music and where it's heading in 2017?
Antoine Dunn: All I can say is that I am doing my part to continue to deliver quality music to R&B/Soul music lovers all around the world. And if that's any indication of where things are going, I think we are in good shape!
Terrance: Are there any upcoming performances or tour dates we should look out for?
Antoine Dunn: Our Acoustic Soul Tour will be starting late Summer/early Fall with dates currently in Cleveland, South Carolina and New York. More dates to be announced soon!
Antoine Dunn​ | Acoustic Soul Tour​ (Charlotte, NC Metro Area) - Saturday, September 9th, at The Sylvia Theater, 27 N Congress Street, York, SC [TICKETS]
Antoine Dunn​ | Acoustic Soul Tour​ (Cleveland) - Friday, September 15, 2017 at Cibrèo Privato, 2037 E. 14th Street, Cleveland, OH 44115 [TICKETS]
Antoine Dunn​ | Acoustic Soul Tour​ (New York, NY) - Tuesday, September 26th, at Rockwood Music Hall,185 Orchard St. New York, NY, 10002 [TICKETS]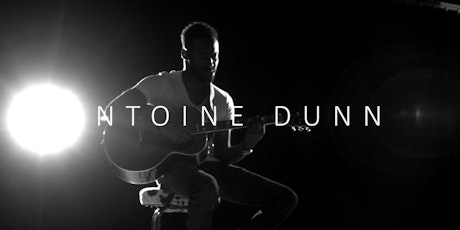 Terrance: Where can the readers reach out to you in social media?
Antoine Dunn: Please follow me @
https://www.shazam.com/artist/40945565/antoine-dunn, https://www.instagram.com/iamantoinedunn,
https://www.twitter.com/antoinedunn,
https://www.facebook.com/iamantoinedunn
Terrance: And to wrap it up, is there anything not discussed you would like to add?
Antoine Dunn: I just want to thank you and RnB Junkie for this opportunity and I want to thank all my fans for rocking with me over the years! Don't forget to Buy, Rate, Review, and Share my music with all of your family and friends and hashtag #AntoineDunn1Million