R&B duo Ruff Endz hails from Baltimore and came to prominence with their debut album
Love Crimes
in 2000 which features their breakout Billboard hit "No More" and a follow-up album
Someone to Love You
and hit of the same name are back with new music, an album titled
Soul Brothers
available everywhere music is purchased online.
Terrance: Talk a little about the earliest formation of Ruff Endz and how it all came together.
Dante Jordan: Basically our families grew up in the same neighborhoods and we got together as friends first in High School. We would cut classes and meet in the music room (laughs) and we became Ruff Endz basically.
Terrance: When you first heard your breakout hit "No More" on the radio what was your reaction to it?
David Chance: Man we were working so hard that it was exciting but it wasn't as exciting because we were so busy working to get things going. Almost everyday we had something to do from interviews to going to the studio and going to radio stations and I remember when they were playing the song, we wanted to leave and go to the car and hear it on the actual radio. You know it just felt like hard work had paid off and it was surreal, but it wasn't as exciting as I thought it would be because we were just working so hard. It wasn't really like an overnight thing. Prior to "No More" we were working with different producers. We were down at Noontime in Atlanta with The Clemons Brothers and various producers to find our sound so Sony took several months to almost a year to really find our niche sound because some of the stuff was cool but then they wanted to go in a different direction. It wasn't until we got with The Clemons Brothers and we met up with Manuel Seal that it was really starting to form as a project and then the last song that we did was a song we did with Eddie F. and Darren Lighty and it was "No More Shopping Sprees" and it ended up being the single.
Terrance: After two successful albums you all went on a lengthy hiatus as a duo. Can you share what caused that?
David Chance: We parted ways with Sony and we were looking to try to do another situation. We actually had an independent situation on the table through Universal. Our friendship and personal lives at the time had some hiccups. My dad had passed away and my girlfriend at the time was pregnant and I was about to be a father and it was just a lot going on in my personal life and Dante's personal life and so it was definitely a major cause in us parting ways and starting a family and that kind of thing.
Terrance: You guys ultimately went on to pursue solo endeavors. What were those experiences like and how did they shape you to where you are today as a unit?
Dante Jordan: The experiences were definitely life-altering. A lot of the experiences really matured us because we hadn't had a chance to mature being in the group. Coming straight out of high school to basically doing Ruff Endz and putting the album out and so on and so forth. I know speaking for myself and I know David got into some other things. I just had to clear a lot of things that were basically in the way of me getting ahead. I started doing things with Kool & the Gang, the band Slave and right at that time we [Ruff Endz] started to get back together and communicating.
Terrance: People often say R&B is dead. What are your thoughts on that statement?
David Chance: I think R&B is not dead. I think radio and certain powers that be have control of what's being played so therefore all you hear is a certain sound. But there are artists out there like ourselves that are making a comeback and bringing music full circle. It's just supporting those artists because there are a lot of artists who don't get on because the industry has shifted to a different sound where R&B is now more of a Hip Hop kind of thing and that's cool that it has a place but when it dominates over, that's when we've lost the original pureness of the R&B art that we all love from the 90's like Boyz II Men, Jodeci, even all the way back to The Temptations and groups like that. Just real singing we kind of got away from that. So it's the powers that be responsibility to create a lane for artists like us to still come out and really promote and keep that art alive, you know what I mean? Because I believe good music is good music so it'll always be here. Radio has the power to play good music and educate this generation on what it is and that's my perspective on it.
Dante Jordan: I definitely still think it's alive and I definitely second that emotion about so much control being with radio. The tide is changing a little bit because of the internet with the Program Directors and things of that nature. So instead of somebody really holding you in one place basically making you listen to their line of music, a lot of people go on the internet. YouTube, Facebook and a lot of other audio platforms give you a chance to hear a lot of the unknown and independent artists or whatever the case is. It broadens the playing field. But I think it's still alive, it's just finding it's way back to the surface. I think it became an underground thing so to speak.
Terrance: Creatively how is the new album
Soul Brothers
different from previous efforts?
David Chance: This album is unique in the sense of being a project that represents David & Dante. This is a project that was birth out of us being in the studio and our creation. I produced the whole project and we both wrote the whole project and we have some various writers on the project as well, but as far as production and creative direction it's all Ruff Endz and so this is the first project that has how we feel and our expression totally versus an A&R stepping in and giving us tracks. We kinda just did what we felt. It's the first authentic album for myself I would say that's purely our expression.
Dante Jordan: It definitely was a different experience being that we were getting back together as a group and basically like he was saying we really didn't have any outside distractions per se, so we were able to tap into one of the things that woke our passions up for the music in the first place when we were kids, you know? We would just be sitting in the Church on Franklin Ave. playing, freestyling and vibing for hours. For me, this album took me back to certain points to that point so that's what I like about the project and feel that makes it different and more unique than our first previous albums.
Terrance: Talk about the lead single "Don't Leave" and it's inspiration.
David Chance: "Don't Leave" is actually the representation of our album like the direction we wanted to go with the whole project. We wanted to make an album that was edifying to us as a people so we wanted to make music that would keep people together and "Don't Leave" is one of those records that was at a place I was. I was married at the time, we got back together and I got separated so it's a record that was kind of where I was in my life at the time and it's also representative of so many people I know that were married and not being together. People getting divorced and separated and families breaking up. I had a friend who hadn't talked to their mother in 10 years. And then everything that was happening on the news with black people, so our perspective on music was just different and how can we make music that's still hot and still relevant and that makes a difference and encourages and edifies our people? So "Don't Leave" was definitely inspired by all that I've said.
Terrance: Are there any personal favorites or songs you would highly recommend on the album to first time listeners?
David Chance: My two personal favorites on the album probably would be "Million Words" and "Remarkable".
Dante Jordan: My two favorites would be "All This Time" I like that ol'skool swing feel, there's just something about that song and it was one of the first songs we recorded when we got back together. The other would be "Why You Came", it's a very different song from me with the live acoustic guitar.
David Chance: Yeah, I would agree with you on "Why You Came". It's one of those songs that doesn't sound like anything. Sometimes as writers we can write songs that have a certain Jodeci or Joe feel because these are people we grew up on and listened to and was inspired by but "Why You Came" have no influence from anything. It's totally something me and my partner came up with and that's the most authentic song on the album.
Terrance: I know the fans have been raving about "Virtuous Woman".
David Chance: Yes indeed man and we hope to start a virtuous woman campaign #virtuouswoman so people can tag and talk about the virtuous women in their life, you know? It's time to uplift each other and that's why we got a song on the album like "Virtuous Woman". "Better Man" is another campaign because my mother made me a better man. My wife made me a better man. Women and even men in my life made me a better man with experiences so it's so much we can do as people and as artists I think we are more responsible than we want to be. We have influence so why not use your influence for something good and not just to make money?
Dante Jordan: Just to add to that. The whole point is edifying and uplifting each other and I think the art in that in a lot of music has been lost. A lot of singers and writers are kind of mixing it with the Hip Hop generation and Pop Culture which all the time doesn't really feed to the most uplifting views on a person especially our women.
Terrance: Is there an upcoming tour planned in support of the album?
David Chance: We have some events in D.C. and New Jersey coming up the weekend of Valentine's Day and other events to kickoff the project. We're going back to Australia. We were in Australia with Ne-Yo, Sean Paul, Kelly Rowland, Monifah, Christina Milian, Kelis and Mario. The touring company wants us to come back in April so we will be going back over there and we're talking to people about going to Germany and the UK. We have a really big fanbase overseas as well. We have some stuff lined up for the Summer and we will be on the Soul Food tour as well, so we're working man and we're definitely independent. It's different this time around because of the fact we don't have a label so we're making these decisions ourselves and getting the responses from people online helps us make certain decisions as well.
Terrance: Overall, what do you hope listeners take from their experience with the new album?
Dante Jordan: I definitely want them to feel the sense of being connected in a way which I love that some people are and we're getting a lot of feedback. It's positive music. Something you can play anywhere and around any crowd and feel comfortable and not having to worry about the words or subject matter getting too racy, you know?
David Chance: For me, I want people to feel what we've heard from a lot of fans and I'm sure you've heard and seen the conversation online of people saying, "What happened to R&B? I remember the days when it was like this" and they would post songs and videos from the 90's and early 2000's and that was the golden era where we came from so we wanted to make an album that was fresh like Bruno Mars and certain artists went back with ol'skool but with a new twist. We wanted to do that in the R&B world bring the 90's feel but with a 2018 feel as well. We wanted to make people reminisce and feel good to this record and so far from the fans who follow us and the responses were good reviews and people are feeling the music so we're pleased that people are pleased and we got more to come. We're just excited about the future.
Terrance: Any final words you would like to leave for the readers and fans?
David Chance: We would just like our fans to support real music and not just us but all of the R&B groups that are coming back. If you support groups like Ruff Endz then you've brought the industry back and can change the industry so support it and keep it alive. And thank you for doing what you're doing man because it's movements like yours that give us a platform and keep us alive as well so thank you for having us my brother.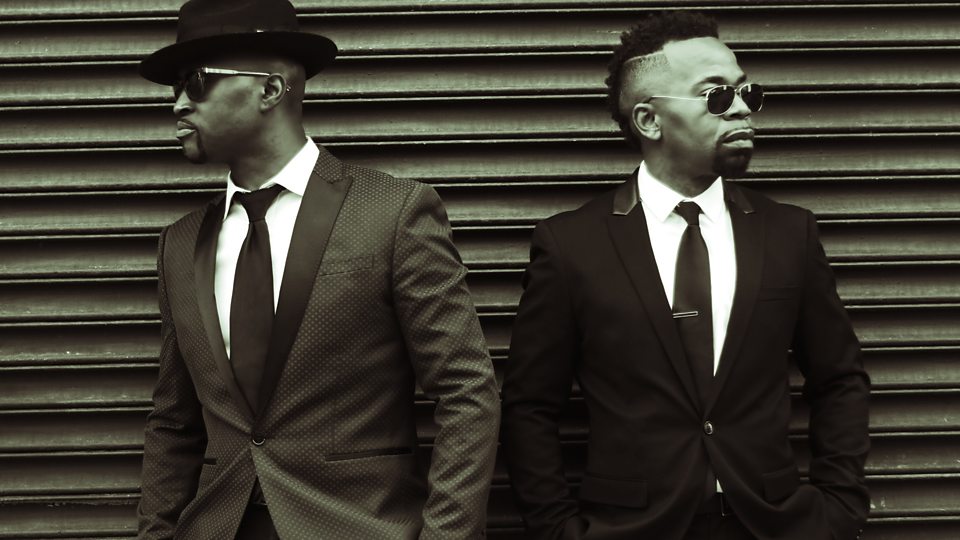 Follow Ruff Endz:
Facebook & Instagram @officialruffendz