My interview with Grammy Award-winning singer, songwriter Dionne Farris who's probably best known as a former member of the trailblazing Hip Hop band Arrested Development ("Tennessee"). I caught up with Dionne to discuss the 20th anniversary of her R&B hit "Hopeless" from the Love Jones soundtrack, her hiatus from music and what brought her back plus her encounter with Prince.
Terrance: This year marked the 20th anniversary of, "Hopeless" from the iconic
Love Jones Soundtrack
. Talk about that song and it's creation.
Dionne Farris: First I would like to say that song has been a blessing to my career in respect that I can't do a show without it. People want to hear that song and what's funny is people all over the world tell me no matter where I go, they can't watch the movie without listening to the song conversely, so they are synonymous with each other. Van Hunt who wrote that song sat down with me and we discussed what was going on and of course we watched the
Love Jones
movie and my story just gelled in with the storyline and that's how "Hopeless" came about.
Terrance: Awesome. After your debut solo album,
Wild Seed - Wild Flower
, you took a lengthy hiatus from the music business that caused many to ask, whatever happened to Dionne Farris? Can you share the decision to walk away?
Dionne Farris: Well, I had became a mother and in the midst of that I became extremely frustrated with the business aspect of music, so much so that I ultimately lost my love for music. I didn't want to be bothered by it, hear it, let alone sing it. Coming from the Arrested Development camp where our sounds and styles were eclectic and musically diverse to being told as a solo artist that I was a certain genre artist. Sony and I fought constantly and furthermore my image I guess wasn't the norm at that time so they say, they'd be like, why do you want to look like a boy? You're a pretty girl. But I wanted people to look beyond the image and just enjoy the music for what it was.
Terrance: I remember you mentioned before that they didn't know what to do with you as an artist.
Dionne Farris: Absolutely. Even far back as my debut single, "I Know", they didn't know where to place me because it wasn't the traditional R&B sound, so I took a break to recharge and regain because you shouldn't have to fight for what comes natural out of you which is music.
Terrance: Since then you've taken the indie route and with that said, what are the advantages and disadvantages of being an independent artist?
Dionne Farris: It's been a learning experience but the creative freedom to sing and say what I want, when I want and not conforming to what the major corporations want me to be is most rewarding of all and it's been a liberating process. But you know with life in general whatever you put your mind to and set out for yourself, there are the hurdles and stumbling block that occur and you must be willing to face them with force and not fear or else you're in the wrong business. Simple as that.
Terrance: Talk about your special connection with "The Purple One" himself, Prince.
Dionne Farris: Wow. Well, back at the start of my solo career in '95 I was in concert and my manager at the time comes to me and say Prince was watching your show and wants to meet you and I was like you're kidding, right? (laughs). So sure enough we met, talked, exchanged numbers and we kept in touch I'd say for about three years having conversations about the music industry. At the time he was fighting to get his master tapes and I would talk to him about the situations I was having at the time with my label. For someone who's been in the business as long as he had and one that was respected, I knew he knew what he was talking about and so I listened giving him my full attention and because of that I'm sure about the artist I am today. It opened me up to a lot of knowledge.
Terrance: What was your reaction to his untimely death?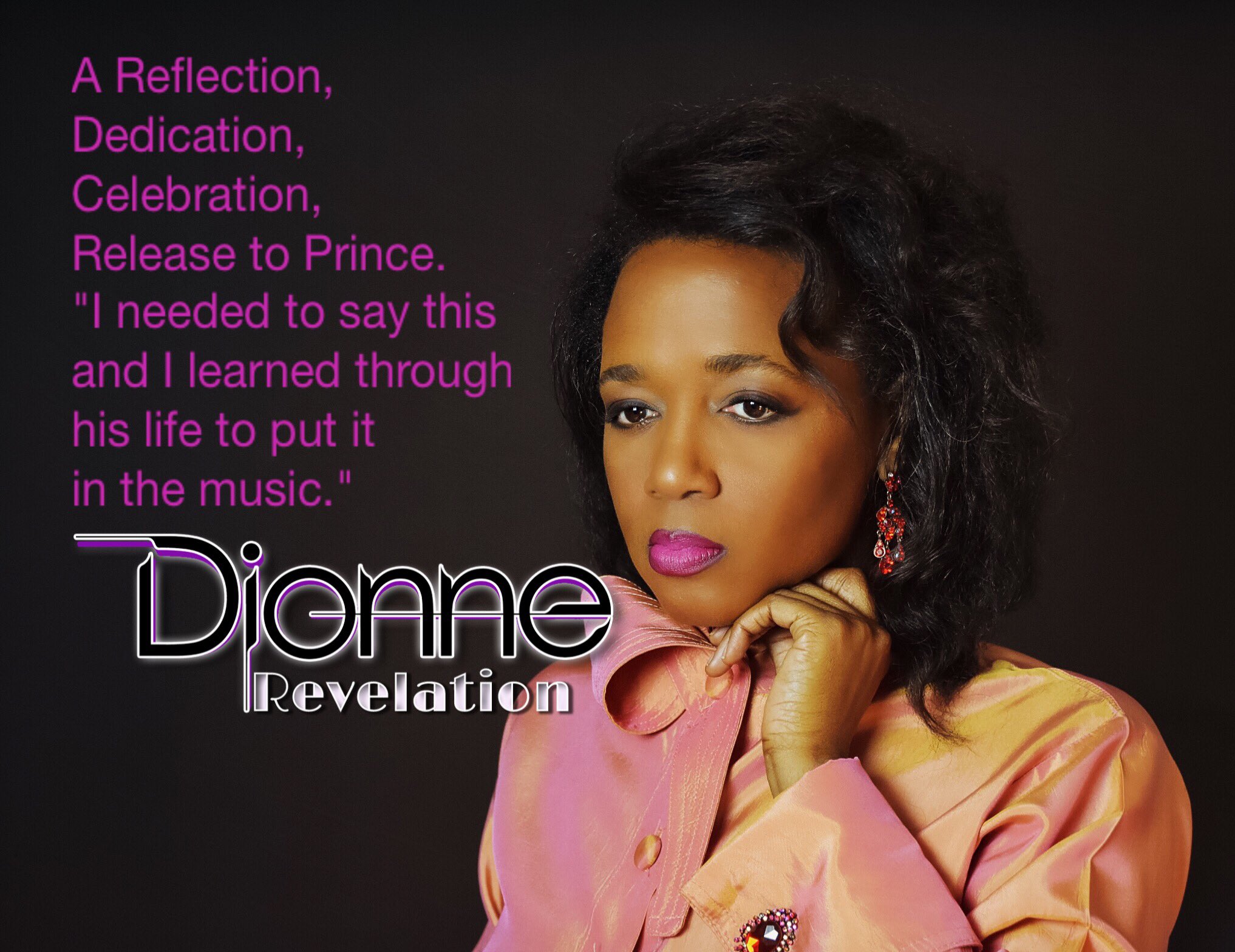 Dionne Farris: Just like everyone else in the world, it was a surreal moment. I couldn't believe it. A few short days after his passing I was inspired to put together a seven song EP called, "Revelation" and with that is a mini book where I mention him writing a song to me and about me called "Dionne". I mention our conversations. I felt there were some unfinished business between us and with that said, I'm forever grateful of the encounters we had and the wisdom he shared.
Terrance: What's in store next for Dionne Farris?
Dionne Farris: New music. Stage performances. Follow my socials on Instagram and Twitter @daladydy, Facebook @dionnefarris for updates.